Spilling the Beans: The Rich Qualities of Latte Art
A historic look at how latte art started and how to create latte art yourself.
Artistic and adorable latte art may be one of the most Instagram-able food items today, but the beautiful works of art within frothy foam has been around longer than social media. Read on to learn about the history of latte art and how you can create it right in your own home.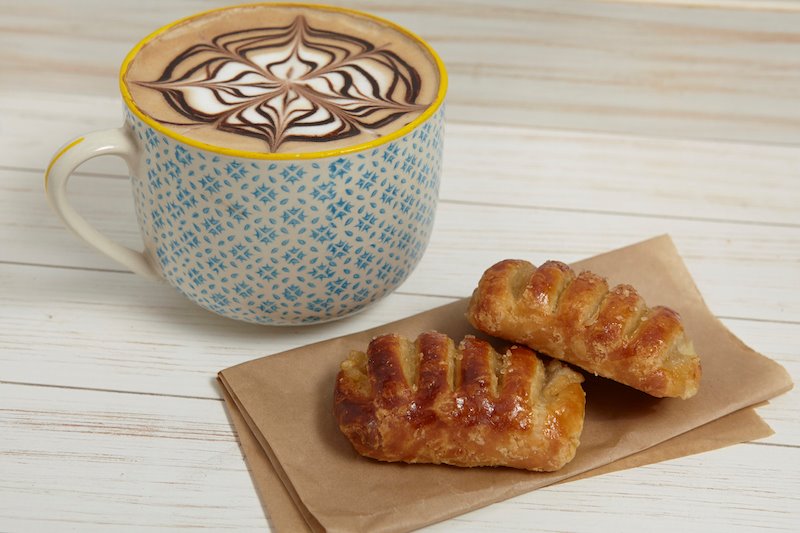 What is latte art?
A latte is an espresso-based beverage with milk and topped with foam. Latte art, specifically, describes the various designs created with the crema and microfoam within a latte. As described on the coffee blog Bean Box, crema is an emulsion of coffee oil and brewed coffee, while microfoam is frothed milk. To create the latte art, the crema and microfoam must be the right temperature and consistency. Baristas and latte artists can either free pour their latte art to create more traditional or less complex patterns, or they can use a techniques called etching, which involves using a small brush, stick, or other tool to draw in the foam. 

So where did it all begin?
We may not know who exactly started latte art, but it is said that it originated in Italy a few decades ago. Latte art became a trend in the U.S. in the 1980s because of the work of David Schomer, coffee roaster and barista extraordinaire. Schomer describes in his TEDxRainer talk that his deep appreciation for coffee as an art began when he was a child but later blossomed when he started a coffee cart with his colleague in Seattle. He describes the art of coffee in the video below, sharing the importance of the art. 
In his publication "Coffee Talk" (now called Espresso Vivace), Schomer writes about how he perfected the original work of art atop a latte: the heart pattern. He described the action as pulling away from the back of the cup, sneaking milk down the sides to form swirls on the surface of the foam, all while attempting to keep the white foam in the center of the cup, hopefully taking the form of a heart. Since the 1980s, the heart has been a widely used design by baristas and latte artists worldwide.
How can you create latte art yourself?
There are numerous YouTube videos online that can provide you with step-by-step instructions on how to create the perfect work of latte art. In a nutshell, it is easiest to create latte art when using a rounded cup. First, pour hot espresso into the bottom of the cup. Second, add a small amount of steamed milk to the espresso, swirling the two hot liquids together. After you have incorporated your steamed milk into your hot espresso, your work of art will be determined by the distance of your pour. 
Watch this video by Whole Latte Love to see how it's done:
If you're local to San Jose, CA, there are numerous coffee shops that offer latte art classes. Check out Chromatic Coffee and Barefoot Coffee Roasters to see when they are offering sessions so you can learn the basics of creating beautiful works of latte art yourself. 
Supporting Local Businesses